Counseling Services Notice:

As of March 30, 2020 Dr. Solie is providing counseling services remotely via Doxy.me, a HIPAA compliant video-conferencing platform.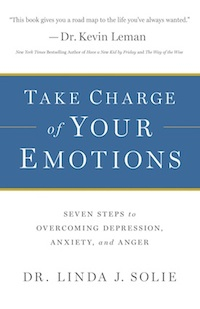 Are you suffering from depression?
Troubled by anxiety?
Struggling with anger?
Take Charge of Your Emotions: Seven Steps to Overcoming Depression, Anxiety, and Anger,
by Dr. Linda J. Solie and published by Bethany House Publishers.

Whether you are challenged with significant bouts of depression or anxiety, frequent temper flairs, or only an occasional unwelcome mood, Take Charge of Your Emotions is relevant to your life!
Dr. Solie has been developing and teaching practical cognitive/behavioral and communication skills for over thirty years. Learn these skills that offer relief from painful emotions.

Take Charge of Your Emotions is available through local bookstores, BarnesandNoble.com, Amazon.com, bethanyhouse.com, and on Kindle and Nook.
____________________________________
____________________________________
Dr. Solie is available for individual, marriage, and family counseling. To schedule an appointment, please call her at 952-239-4894. For more information on her specialities, please visit her "Counseling" page.